Celebrate 🍾 Thanksgiving Online With The 🦃 Turkey Emoji: Fun Ideas And Activities To Do With Family And Friends 🍁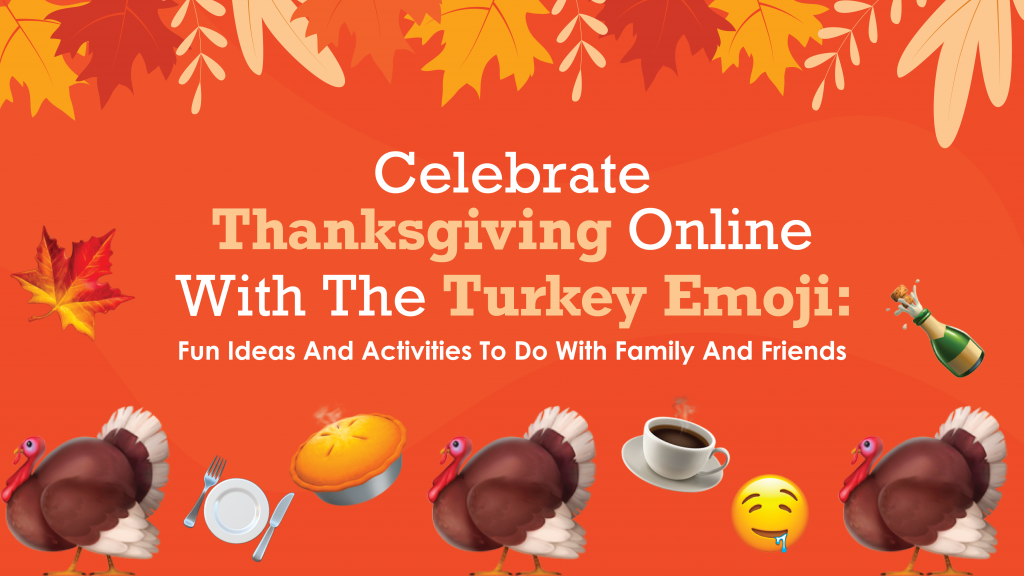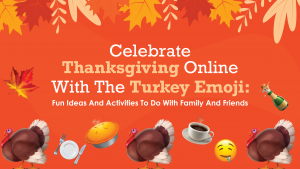 In a few weeks, it will be Thanksgiving—that time of year when family and friends gather around the dinner table to eat, drink, and give thanks for the great things in their lives. Sadly, Thanksgiving will look very different for most households this year due to the ongoing COVID-19 pandemic. How about a change and hold your Thanksgiving celebration virtually?
In many situations, emojis are great and add a lot to the virtual experience. Whether it be sarcasm, a joke, or just a simple message, it's hard to convey tone and feeling through words alone. Luckily, there's a way around that, and it comes in the form of emojis!
Take this moment, for instance—have you ever tried talking to someone with no emotion at all? That's exactly how you sound when you don't use symbols online.
Now, imagine yourself doing that in the middle of a gigantic party. Awkward, right? Isn't it great that there are emojis that not only help to express one's self online but also fit a particular theme, as well?
For example, there are many fun, Thanksgiving-related emojis to choose from and to include in your upcoming virtual get-together. To start, let's go over a few of them below.
Turkey Emoji

The 🦃 Turkey emoji shows a turkey, a huge domestic bird with a dark brown body, pink or blue head, and a white-fringed plume. Turkeys have a signature "gobble-gobble sound", a loud and fast gurgling noise. This emoji is often used in the context of Thanksgiving because roasted turkey is traditionally the main Thanksgiving Day meal.
How to use the 🦃 Turkey emoji:
– I am so excited to cook 🦃 on Thanksgiving, I am already searching for turkey recipes online!
– Everyone likes turkey, but I can't eat 🦃 alone, I find it too bland. I need to put sauce on top of it.
Pie Emoji

The 🥧 Pie emoji shows an image of a pie on a pan. On Google and Twitter platforms, only a piece of this pie is shown. Pie is a baked dish with a pastry crust. It is prepared in a pastry-lined pan and filled with fruit, meat, or pudding. Some people also put the same filling on top of the pies they bake.
Pies are most often used in conversations about desserts and in topics related to Thanksgiving. Why Thanksgiving? Pumpkin pie is what most Americans have for dessert on Thanksgiving day. It is a Thanksgiving day tradition. If you would like to show which flavor of pie you are eating, craving, or currently baking, put a fruit emoji before the 🥧 Pie emoji.
How to use the 🥧 Pie emoji:
– I don't have a sweet tooth, but for some reason, I enjoy eating pumpkin 🥧 on Thanksgiving.
– You need to try my mom's 🍓🥧, it is to die for!
Folded Hands Emoji

The 🙏 Folded Hands emoji is one of the most powerful symbols online. This emoji shows two hands in a praying position.
In Japanese culture, the 🙏 Folded Hands emoji means "please," or "thank you." If you want to say "thank you" without spelling it out, the best symbol to use is the 🙏 Folded Hands emoji. Some people use it as a symbol for praying. If you want to tell someone that you are praying for them, all you've got to do is use this emoji, and they will get the picture.
How to use the 🙏 Folded Hands emoji:
– Every Thanksgiving, before we eat, we tell everyone what we are thankful for 🙏 Do you do the same thing in your house?
– I know that this year has not been easy for anyone, but it's been especially hard for you because you lost your job this year. I 🙏that you may get a new one soon.
Drooling Face Emoji

The 🤤 Drooling Face emoji shows a face with happy closed eyes and raised eyebrows on most platforms and saliva drooling from one corner of its open smiling mouth.
The emoji is usually used to describe a mouthwatering meal, like the one you would have on Thanksgiving Day! TV and movie producers also use it in various cartoons and animated films and TV series to show lust toward someone attractive.
How to use the 🤤 Drooling Face emoji:
– I can't wait for Thanksgiving dinner tonight! I had a glimpse at the menu my mom prepared, and it's making me salivate! 🤤
– Thinking about all the eating I will do tonight is already making me 🤤
House Emoji

The 🏠 House emoji shows a house, a building for human habitation, with a door, windows, and a triangular roof. Some platforms show a chimney on the house's roof.
You'll usually see the 🏠 House emoji in emails and social media posts about houses, buildings, and other living quarters.
How to use the 🏠 House emoji:
– I am glad my brother is joining our virtual Thanksgiving party. He lives in another state. He was scheduled to come 🏠 and celebrate with us, but he can't, because of the pandemic.
– I've been to so many places, I've seen so many things, but nothing will ever come close to the feeling you get when you come 🏠
Fork And Knife With Plate Emoji

The 🍽️ Fork And Knife With Plate emoji is an image of a white plate with a fork and knife. The knife is on the right, while the fork is on the left.
People often use the symbol in conversations about eating and dining. You can put the 🍽️ Fork And Knife With Plate emoji, and the 🦃 Turkey emoji to show that you are having turkey for Thanksgiving!
How to use the 🍽️ Fork And Knife With Plate emoji:
– I asked my five-year-old daughter to set the table for Thanksgiving. She put the 🍽️ in all the right places without my help! I am so proud of her!
– Every year, we pull out our Noritake 🍽️ for Thanksgiving dinner. It's one of the most expensive dining sets in the world!
Bottle With Popping Cork Emoji

The 🍾 Champagne emoji or the 🍾 Bottle With Popping Cork emoji shows a liquor bottle with its cork nearly popping and some liquor pouring out. It is seen as a celebratory gesture.
When you want to celebrate someone, or something online, show that you are celebrating with them by posting the 🍾 Bottle With Popping Cork emoji. You'll see the symbol on several celebratory occasions, occasions like New Year's Eve, Christmas, and Thanksgiving!
How to use the 🍾 Bottle With Popping Cork emoji:
– During Thanksgiving, we 🍾 a bottle of Pol Roger, the official champagne of Prince William and Kate's wedding because we want to celebrate like a royal.
– My father 🍾 his Bollinger champagne during Thanksgiving because it is James Bond's favorite champagne. He feels like a British secret service agent whenever he drinks it!
Maple Leaf Emoji

The 🍁 Maple Leaf emoji is a picture of a leaf from a maple tree. It has five pointed segments and is reddish-orange. This leaf is known for its unique shape, making it impossible to confuse it with any other leaf.
You'll most likely see the 🍁 Maple Leaf emoji in content related to trees, leaves, nature, and Fall. It is included in our list of Thanksgiving emojis because Thanksgiving happens in the Fall.
How to use the 🍁 Maple Leaf emoji:
– On Thanksgiving Day, I usually have pancakes with 🍁 syrup for breakfast, and nothing else for dinner, so my tummy is ready for Thanksgiving dinner!
– I love Autumn, I love it when trees transition into their autumn colors and 🍁 fall on the ground.
Hot Beverage Emoji

The ☕ Cup of Coffee emoji or ☕ Hot Beverage emoji is an image of a white cup holding a steaming-hot beverage. Sometimes the cup comes with a saucer. You'll most likely see the ☕Hot Beverage emoji on topics about drinks and hot drinks like coffee, tea, and hot chocolate.
How to use the ☕ Hot Beverage emoji:
– After every Thanksgiving dinner, I take a seat by the fireplace with a ☕ to warm me up. Do you do the same thing, too?
– I think I am immune to caffeine. I take two cups of ☕ in the morning, two more cups during the day, but I still sleep at 8 pm!
United States Flag Emoji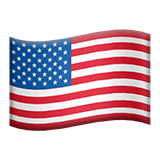 The 🇺🇸 United States Flag emoji is an image of the United States flag, a flag with thirteen alternating red and white horizontal stripes. On the upper left corner of the flag, 50 white stars sit in a blue rectangle.
You'll spot this emoji in conversations about flags and about the United States Of America. This emoji belongs to our list because Thanksgiving is an American holiday.
How to use the 🇺🇸 United States Flag emoji:
– When I read the story behind Thanksgiving, it made me proud to be an American 🇺🇸
– Am I the only one who holds up the 🇺🇸 while watching international beauty pageants in her living room?
Virtual Thanksgiving
At the moment, there is not much we can do about the state that we're in — officials and medical experts have been consistently been warning people not to hold large family gatherings. This means that if you have family and friends spread out across the country, and they usually come to your place to celebrate Thanksgiving, a virtual holiday event with multiple appearances of the 🦃 Turkey emoji in your chatbox, will probably be your best option.
We know, we know, nothing beats seeing the people you love in person, in the flesh, but it is what it is. As long as there is a virus out there, we need to follow orders and take all necessary precautions.
Party Planning
We should let nothing, not even a pandemic, dampen our holiday spirit! Besides, there is a workaround to all this:
We can hold virtual events!
When planned well, a virtual holiday party can be really fun! Online events help maintain strong and natural connections with friends and loved ones you don't normally see due to physical or social distance. Furthermore, virtual events help maintain a sense of normalcy and a feeling of living full lives, even when celebrations have to take place through different formats.
After all has been said and done, if the thought of hosting a virtual Thanksgiving party still sort of makes you cringe, maybe we can help by sharing a few tips with you. Read on to discover how to make a virtual holiday gathering as enjoyable as possible.
Get A Host
For a virtual event to run smoothly, you need to have an emcee. He or she will set the tone of the event and will also be there to make sure there are smooth transitions between various segments of the program.
Who to get as your host? If someone in your family is outgoing or talkative, they'll probably want to be the emcee of the event. Or, you can have different family members host the beginning, middle, and end of the affair so that everyone can take part.
Let's face it: not everyone in your family is as tech-savvy as you. Having said that, if you don't want to spend the entire night teaching your elderly aunt or uncle to mute the Zoom button, we think you should probably assign a tech captain. He or she will teach your not-so-techie relatives how to use Zoom, Google Hangout, or whatever chat app you will use a day or two before the event.
The tech person should be assigned to fix all technical difficulties on the day of the event, too. You wouldn't want a 🦃 Turkey emoji or 🍁 Maple Leaf to appear out of nowhere, disrupting the flow of the event, or having the Internet connection suddenly cut off.
In case that happens, you've already got someone to sort it out for you. The tech captain is also assigned to email the link and password to the virtual room to all the attendees 30 minutes prior to the event.
Keep It Short And Sweet
Set start and end times in advance so that things don't drag on. If the invite says the event will be from 7 pm to 8 pm, try not to go beyond that. Also, keep it shorter than a traditional Thanksgiving gathering. People's attention spans may become diluted after an hour. Your effort will go to waste once people stop paying attention! Even if you fill your computer screen with a 🦃 Turkey emoji!
Don't Forget To Decorate
Even if no one is coming over, do not forget the decor! Setting up your table, placing a few flowers and balloons, or a cute 🦃 Turkey emoji as part of your virtual background will surely get you in the holiday spirit. When you're done, you can show what you made to your family members during the actual Thanksgiving virtual shindig.
Another way to add a festive feel to your virtual party is to mail items to your guests days before the event. Why not send them a bottle of 🍾 champagne you can all pop together or custom t-shirts you can try on at the same time?
Dress For The Virtual Occasion
Thanksgiving is also the perfect time to change out of your robe and sweatpants! Since everyone's been in their jammies, working from home for months, we doubt anyone will disagree. Or you can jumpstart your holiday and celebrate in style with a fun costume party! Years ago, people dressed up in costumes for Thanksgiving, so why not bring back that tradition?
Create a classic Thanksgiving look this year- dress up as a pilgrim man, woman, Indian, or turkey! If you want to make your own costume, why not use the 🦃 Turkey emoji as a peg or pattern?
Make Mealtime Fun
Eating together is a crucial part of the Thanksgiving celebration. But eating in front of the computer screen might get boring after a while. Luckily, there are a few ways to spice things up, such as asking your guests to jot down a traditional family recipe.
Once they're done, your guests can draw names from a hat so that each person ends up with a different recipe to make. On the Zoom call, everyone can talk about what they made, how it turned out, and why it reminds them so much of Thanksgiving!
Why not get a signature cocktail to go with that? Days before the event, the party host can send out a signature drink recipe for everyone to make on their own. Before the toast, everyone can talk about what they are thankful for, and the blessings they received this year. You may also assign a family member to share the story behind the first Thanksgiving.
Say Cheese!
Don't forget to take a fun family photo! Make sure it's a nice one, one that will make all of you laugh when you look back at it in years to come. You can do this right before the end of your event to finish things on a high and happy note. You can even use a nice Thanksgiving emoji as your photo frame—like the 🦃 Turkey emoji.
Live It Up, Live
Viewing parties are a great way to bring family and friends together, especially during a holiday like Thanksgiving. If you and your family love to watch the Macy's Day Parade together, why not hold a viewing party during your online event? You need not watch the entire show, if it is too long, maybe just the highlights or the highly anticipated parts.
Cool Contests
Nothing brings people together quite like a contest, so why not hold a couple of online contests during your party? One of the best games to play online is a scavenger hunt. It's very interactive – everyone is running around the house, searching for 15 to 20 items — and whichever team comes closest to gathering all those items wins!
Here's another fun and simple way to make your celebration even more festive – match the items you're looking for with the theme of the event. For example, the theme of the hunt can be things we're thankful for, like a favorite gadget, snack, etc. Another way to keep things thematic is to decorate your clue sheet with fun and festive Thanksgiving emojis like a 🦃 Turkey emoji, 🎃 Pumpkin emoji, etc.
Another fun game to play is a Thanksgiving trivia game! Put your family's knowledge of Thanksgiving to the test with a series of questions and answers. If you're in a creative mood, you can come up with your own Thanksgiving trivia cards and send them to your family and friends before the party.
While you're at it, why not include a few Thanksgiving emojis on the cover or inside every one of those cards? A 🦃 Turkey emoji, 🎃 Pumpkin emoji, 🍂 Fallen Leaf emoji, or 🍁 Maple Leaf—the choice is yours!
In need of pegs? Then you've come to the right place! You've already seen plenty of Thanksgiving-related emojis that will surely level up the design of your trivia cards. You just need to pick one and go with it!
Conclusion
Why do we celebrate Thanksgiving? When we think about Thanksgiving, we think about food, family, and friends – and there is nothing wrong with that. We center modern Thanksgiving celebrations on how much we can eat, how much we can spend, etc. However, let us not forget what Thanksgiving is really about.
The Story Behind Thanksgiving
More than just the food, and the festivities (virtual or otherwise), when we celebrate Thanksgiving, we reenact and commemorate the Mayflower pilgrims' celebration on the coast of Massachusetts in 1621. The Pilgrims had a thanksgiving meal back then to say thank you to the Indians that taught them to fish and farm, thereby saving them from starvation. Without the Indians, the Pilgrims would have died.
Thanksgiving In Our Hearts
Do you have your own version of Indians in your life? People who've helped you along the way? Family and friends who've encouraged you, inspired you, and made you a better person? Why don't we use this time of fun, relaxation, and celebration to also thank those special people in your life? Minus the food, frolic, and festivities, isn't that what Thanksgiving is really about?
Did you enjoy our story on Thanksgiving emojis? If you think we should have included anything, please let us know! Share your comments on the article or on anything else you read on emojiguide.com through our Contact Us section. We'd love to hear from you!